Ramps are fantastic structures that allow us to perform several different purposes and duties. Although, there are many different types of materials used for yard and commercial ramps. A ramp will be made out of a different material, depending on its intended function.
The 4 main types of materials used are steel, aluminum, concrete, and wood. Here are the differences between them: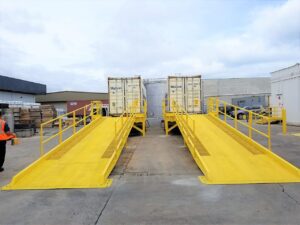 Steel
These types are fantastic since you can customize them to fit any property. Steel Ramps are truly heavy-duty, and have a higher weight capacity than Aluminum and Wood Ramps. They generally have a weight capacity of 25,000 pounds, while aluminum ramps can only carry up to 16,000 pounds. They make for the best industrial ramps.
Steel ramps can be very customizable. Here at Medlin Ramps, we offer stationary and mobile options. Our ramps are made out of heavy-duty carbon steel, which can hold up to 80,000 pounds depending on its size and specifications.
Aluminum
This type of material is very versatile and is a good option. It is lightweight but also durable. Aluminum ramps are great for permanent and temporary installations because they can be taken down and moved to a new spot easier. Although, they have a lower weight capacity than steel ones.
Aluminum ramps are shipped as premade modular parts, which makes installing these ramps in a matter of hours possible. They include a slip-resistance surface, which is great for slippy rainy or snowy weather.
They require virtually no maintenance. Aluminum ramps may be more costly than other types, due to the great material and parts that come pre-assembled.
Concrete
This option makes for a very durable ramp. Concrete ramps have a high weight capacity and are considered the strongest, so you can use them at regular intervals for transporting heavy items. As they are being made, they can have non-slip surfaces built into them.
Since they can be such a great option, it tends to be the most expensive ramp to have made. These types are the most permanent solution. Although, concrete ramps need the occasional maintenance, as they eventually get cracks.
It may not be possible for your facility to have a custom concrete ramp made because they are challenging to customize. Once completed, it is very difficult to make any sort of readjustment.
Wood
A great plus of having wood ramps is that they can be visually appealing if built to complement the architecture of the facility. The material to make them is also inexpensive, usually making costs less.
Although, a huge downfall of having one is needing to constantly take care of these ramps. They are prone to rotting, disfigurement, and splinters. 
Wood ramps are not the best for wet environments since they can be very slippy, which is why they often have non-slip material added on top.
These ramps have to be built from scratch and cannot be taken out and added to a new location.
If you are in need of a ramp, we offer great ramp solutions. We include great customization options for temporary and permanent projects. Call us at 877-4-MEDLIN.