When choosing a yard ramp, you may be considering which type you may want to get. There are two main types of yard ramps, mobile and stationary.
Either one is fantastic, but each one can be used for different purposes. Here are some things to consider when choosing your yard ramp.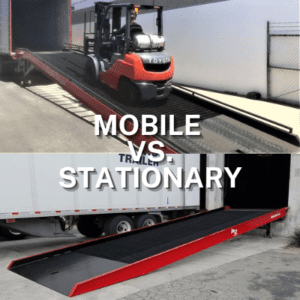 Mobile Ramps:
Also known as portable ramps, these are great for companies that don't have a set loading dock. Mobile ramps can easily be taken down and set up again as many times as you need. There is no commitment to where the ramp needs to be used.
The versatility of this type of ramp allows you to become more efficient, and it lets you clear up space when you are done with the area.
Here at Medlin Ramps, we offer Elite Series and Stock Series Mobile Yard Ramps. These ramps are great for moving material from railcars, trucks, or buildings. If your facility doesn't have a dock ramp or you simply don't want a permanent setup, mobile yard ramps are your perfect solution.
Don't be fooled, mobile ramps are still heavy-duty, our Mobile yard ramps can carry up to 80,000 pounds. Ultimately, you can rely on mobile yard ramps for all your needs in these challenging industries! You can order different configurations to suit your needs upon request.
Stationary Ramps:
These types are also called dock or ground-to-dock ramps. The Stationary ramp will be permanently set in place in the area you want. These are great for areas that have no dock access from the ground. 
They cannot be repositioned or put away when not in use. These ramps can carry more weight than the mobile version. If you need to move heavy equipment, vehicles, or forklifts from your facility, a stationary ramp is a great choice for you!
What's great about us is we offer custom lengths, widths, and add-ons upon request.