Free Yard Ramp Quote!
We Cover The Entire USA
Yard Ramps Near You, Ready For Delivery
Medlin Yard Ramps offers the finest selection of:
2023 will mark Medlin Ramps' 33rd year of providing outstanding ramps. For 33 years we provided quality yard ramps and material handling equipment to Los Angeles County and Orange County, but in early 2015 we opened our east coast location in Lexington, NC. Making Medlin Ramps first in the industry to have two manufacturing locations. We also added and an additional shipping warehouse in Tennessee. Then in 2019 we added a third manufacturing facility in Alamogordo, NM. Whether you need a stationary or mobile yard ramp to buy or rent we have you covered. We also have a great selection of used yard ramps if you are on a budget and need to be productive right away.
We serve businesses nationwide. Having strategic locations to serve the western, central and eastern United States. Whether you are looking to buy, sell, or rent a yard ramp, Medlin Ramps provides the best price and fastest delivery. We specialize in increasing productivity for warehouses by providing warehouse loading dock ramps that will speed up your material handling needs. We also have mobile solutions if you need something that will allow you to move it around with ease,, check out our portable loading dock ramps. We have portable yard ramp solutions in various dimensions and we can also provide a custom solution because we are the largest yard ramp manufacturer in the US.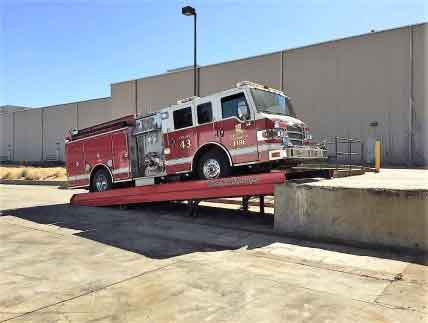 The Medlin stationary yard ramp, also called loading dock ramp, is the perfect solution when there is no ground access from the dock. Similar to the mobile yard ramp the stationary ramp is fabricated from heavy duty carbon steel. If you are looking for mobile and stationary yard ramps solutions just give us a call.
The Medlin mobile yard ramps are the state-of-the-art way to load/ unload containers. If your company doesn't have a portable loading ramp, mobile yard ramps are the perfect solution. Made from heavy-duty carbon steel which ensures years of reliable service. These ramps will be around a lot longer than you or I will be.
For most warehouses, manufacturers, and other industrial businesses, loading docks are of utmost importance. It is one of the primary areas of focus among the facilities. Loading docks allow you to transfer massive quantities of product to and from trucks. Without them, loading trucks would be a challenge and getting product into your facility without one would be counterproductive.
PORTABLE DOCK & RAMP COMBO
The Medlin portable loading dock and ramp combo is the best way to create a place to load and unload containers. If your company doesn't have a loading dock, a portable loading dock and ramp combo is the perfect way to create a shipping and receiving area. Made to order to have various dock bays and ramp sizes and widths to meet all the customer's needs.
Yard ramp rentals are the way to solve all your temporary ramp needs. We offer versatile stationary and mobile ramp solutions across the nation. We as the manufacturer can guarantee your ramp on the date you need it. We are the go-to rental yard ramp company throughout the US. Ask about our rent to own options available if you might be considering keeping the yard ramp.
We have both used stationary yard ramps and used mobile yard ramps available for sale. Again, both the stationary and mobile used yard ramps get the job done, but for not as high of a cost. The used yard ramps, whether stationary or mobile, are available all across the US. All of Medlin's used or demo ramps are ready to go to work once it arrives.
YARD RAMP BUYBACK PROGRAM
Medlin Ramps will buy back your old ramp. If you have a ramp you no longer use or would like to trade in. Go ahead and give us a call. One of our team members will evaluate your ramp and give you a fair offer.
Learn why Medlin Ramps offers the finest selection of yard ramps, loading ramps, forklift ramps, portable loading docks and more to help your business.
If your business is located at a warehouse or a place with one or more docks, then you are in need of one or multiple forklift ramps. Forklift ramps (also called yard ramps) are ramps that can be attached to the back opening of your truck, or to the opening of a warehouse or loading dock, and they are used for the purpose of giving your forklift a platform to carry items from ground level to an opening above ground level where heavy items or a large number of items need to be placed or unloaded.
You can buy new or used forklift ramps, or you can choose to rent instead. A new forklift ramp can definitely handle long-term use being that it is in tip-top condition when sold, but do not be hesitant to buy a used ramp. All of our ramps are tested and can hold between 16,000 lbs to 30,000 lbs. You will want to consider renting a forklift ramp from us if you only need the ramp for a limited time period. We have short and long-term rental options.
If you need a yard ramp and are not sure if a mobile yard ramp or stationary yard ramp aka forklift ramp or dock ramp is good for you just think if you need to keep it in one place, then a stationary yard ramp would work best for you, while portable (or mobile) forklift ramps can be moved around to different locations on your turf. Our portable yard ramps come with four wheels, two for each leg.
If you work in the retail, automotive, or food industries, buying or renting a forklift or yard ramp would be an ideal purchase for you. Call us today at 877-4-MEDLIN if you would like more information or would like to discuss how we can best accommodate you and your business.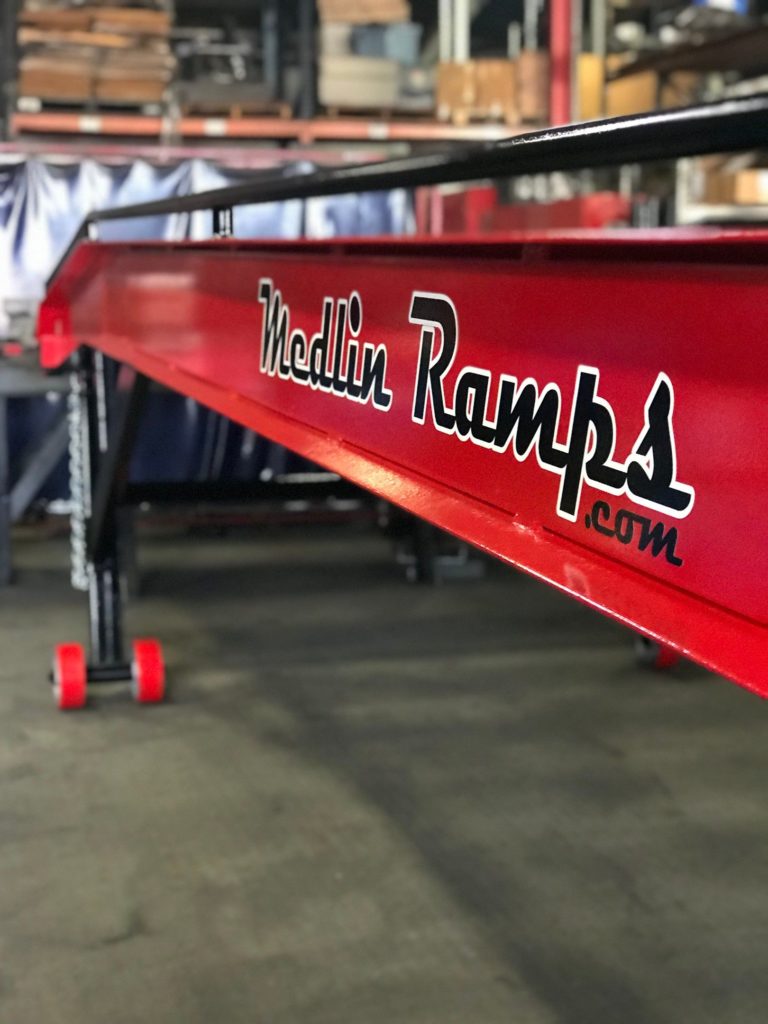 Featured Yard Ramp Articles and Information
Loading Dock Ramps and
What to Expect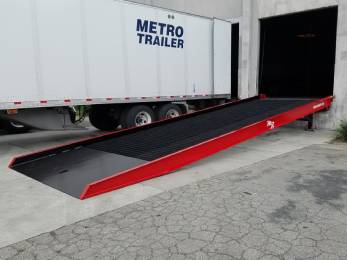 Looking for a loading dock ramp?
Don't know
Loading and Unloading is Easy with
Mobile Ramps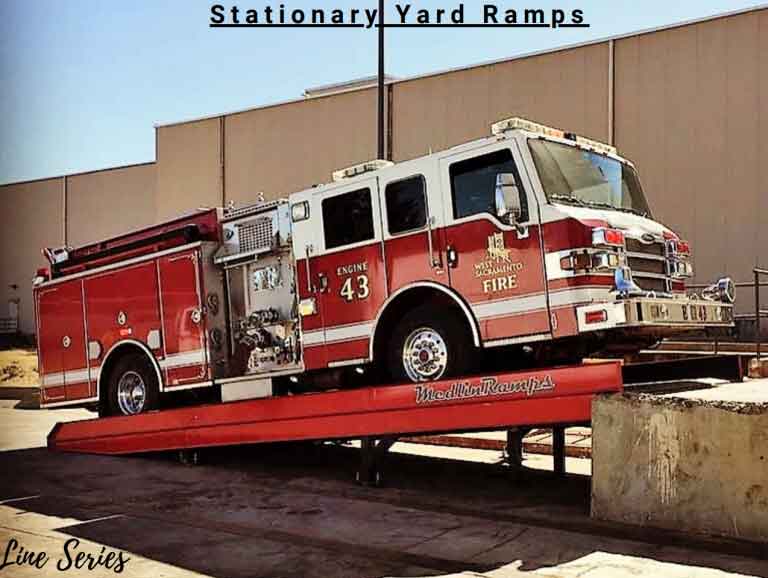 Loading and Unloading
anything from a truck
Increase Productivity With Portable
Loading Dock Ramps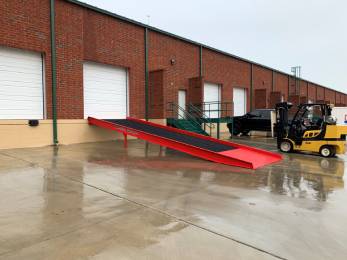 Medlin Ramps has the best
pricing on new or used ramps