Moving loads of stuff and don't know what to do? Rent a yard ramp! Yard ramps, also known as portable loading ramps, serve as a transportable dock. They allow you to transport heavy loads of equipment via fork-lift from the ground up to the level of the loading dock or trailer. This allows you to move your heavy items easier and allow them to transport with you rather than having them stored at a permanent loading dock area. There are a few types of yard ramps and picking the best one may be a difficult decision. Let's look at our options.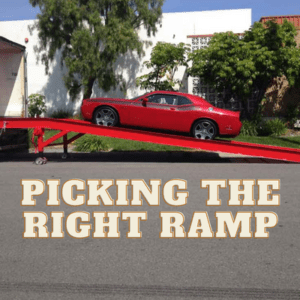 First we have the stationary ramp. Also known as the dock ramp, The Medlin Ramps' stationary yard ramp is a great option when there ground access from dock to ground is inaccessible. This stationary ramp is manufactured with heavy duty carbon steel. It can transport equipment as heavy as forklifts, firetrucks, and other heavyweight items. It features serrated grating which is perfect for year round usage and its safety side curbs gives the person using it the confidence and reassurance they need when operating such a thing. Medlin Ramps offers this stationary yard ramp in capacities from 16k-80k, as well as custom widths, lengths and other ad-ons upon request.
Second we have the mobile yard ramp. A portable mobile yard ramp is the state of the art way to load and unload containers. Mobile loading ramps expand your present dock's capacity, and maximizes your flexibility to access your heavy loads anywhere on your property. These ramps provide a lot of flexibility with transporting materials from trucks, railcars, buildings etc.. and they are easy to adjust. Handling materials with the mobile yard ramp makes transportation a breeze. This type of ramp is especially good for companies and warehouses without a loading dock. Medlin Ramps' mobile yard ramp is manufactured from heavy duty carbon steel which ensures years of durability. It features standard serrated grating, fit for all kinds of weather, and a 6 feet level off. The 2 speed manual crank system, as well as the 4 iron core poly wheels eliminates hydraulic failure and makes adjusting and moving the ramp a breeze. Each ramp also comes with after chains and a tow boot making this an easy one man job. Medlin Ramps offers capacities 16k – 40k and customizations upon request.
For any inquiries, call 877-4-MEDLIN or visit their page at https://medlinramps.com/stock-series/