It's great that you are interested in attaining a yard ramp for your needs, especially if you do not have a dock door of your own. Although, you may be wondering which is the best option for you, to buy or rent a ramp?
Well, there are different reasons for choosing either option. Here are some reasons that can help you finalize your decision:
Buying a New Yard Ramp
Even though some think buying a yard ramp is too expensive, in reality, it can be a great investment for you. If you need a ramp not only for short periods of time but need them consistently, you will save a lot of money by purchasing a ramp you can keep permanently.
With a new ramp, you can assure yourself of great quality, as it hasn't been used before and will be a piece of well-sound structural equipment.
It also allows you to grow your business, as you do not need to worry about thinking and wasting money on short-term solutions. This will actually prevent your business from expanding and adding additional services or products to your line.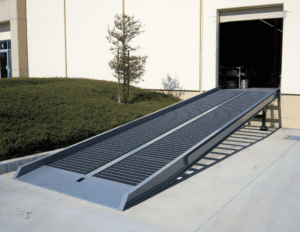 Renting a Yard Ramp
If your need for a yard ramp is only short-term, renting is a great option! It can save you a lot of money, and you won't have to commit to one type of ramp. At some points, you can try one ramp, and the next time you'll be able to try a different ramp. Essentially, it is good for testing out what specific type you will want to get.
Here at Medlin Ramps, we have 2 types of yard ramps you can buy: Stationary Yard Ramps or Mobile Yard Ramps – Elite Series 1 & 2 Ramps (a mobile & stationary hybrid). 
What is great about us is we also have rent-to-own purchasing options, as well as custom-built rentals upon request! So if you aren't sure about purchasing straight away, you can start it out as a rental.
Call us at 877-4-MEDLIN for all your yard ramp needs.