It is important to choose the right type of yard ramps for your intended use. The most common two types of ramps are:
Mobile Ramps: mostly for loading and unloading vans and containers.

Stationary Ramps: mostly for access to dock areas.
We are going to mainly talk about the five important factors to consider when choosing a mobile yard ramp:
       1. Design: Different manufacturers may have various designs of mobile yard ramps. The point of having a mobile ramp is that it is easy to move around and operate and it is important to consider those factors while choosing a mobile yard ramp. In the meantime, the material used for the ramp is also crucial to take into consideration. For example, even if there are light aluminum yard ramps, it is better to obtain the steel ones.
       2. Capacity: Mobile yard ramps need to be suitable for the cargo when unloading. There are various types of capacity from 16k to 80k with different width and length. It is important to pick the right one for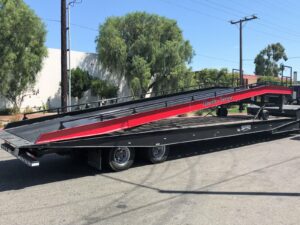 different uses.
       3. Safety and Maintenance: Safety is extremely important, especially when moving heavy loads. It is crucial to choose a mobile yard ramp with a safety chain to ensure that it is securely attached to the vehicle in order to prevent the ramp from moving around. Having experienced service engineers to ensure that the mobile yard ramp is maintained in a good working condition is also necessary.
       4. Used or New: If you would prefer a yard ramp in a good condition, but for a cheaper price, used ramps might be an option.
       5. Rent or Buy: It is also important to decide if it is more profitable to buy a mobile ramp or rent one. If a company needs to use the mobile ramp very often, it might be worth purchasing it. It varies depending on the specific needs of different companies.