Do you work as a car carrier or hauler? Have you been needing a ramp? Maybe you need to replace an old ramp? Here we will explain why buying a mobile loading ramp from Medlin Ramps is a great decision for you.
Our portable mobile yard ramp is a great way to load and unload your carrier. Our ramps are made from heavy-duty carbon steel. They include weather serrated grating as well as a 6' level off. We made sure you can use these ramps all time of the year, for many years to come.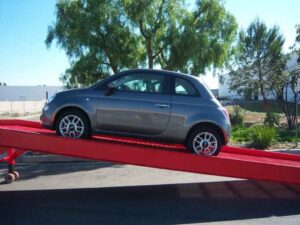 The way to adjust and move the ramp is by using our 2-speed manual crank system and 4 iron core poly wheels, which can be done very easily. Our 2-speed manual crank system also takes out the possibility of hydraulic failure, which is common in other ramps. This is perfect for car carriers for loading needs, as it makes your job easier and you can worry less.
Our ramps have many customizable features. Our ramps have capacities of 16k to 40k, while other custom sizes are also possible if requested. Another feature Medlin Ramps offers, is the ability to either buy or rent a ramp. Buying is great if you will be needing a ramp for the long run, but renting a ramp is perfect for a temporary solution. Our rentals start as low as $300 a month. 
Other points to know about our ramps is that we also have new and used portable yard ramps that you can choose between. Also, Medlin Ramps covers all states nationwide, so you can purchase our ramps whether you are on the west coast, middle America, east coast, etc.
If you are interested in our portable ramps for car hauling, you can contact us at 877-4-MEDLIN or you can get a free quote by filling out information on our website.